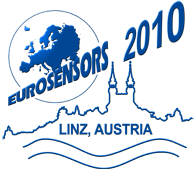 Eurosensors XXIV
September 5 - 8, 2010, Linz, Austria
Eurosensors School
Sunday, September 5, 2010, 09:00 - 18:00
Campus Johannes Kepler University Linz
Lecture hall HS 2, "Sparkassensaal"
Background
The program of the "Eurosensors School" has been introduced at EUROSENSORS XIII Conference in The Hague, 1999, and addresses selected topics regarding fundamentals of sensor science technologies combined with the discussion of some recent development/potential applications. The lectures are given at the graduate level and typically span from the scientific basic principles to the implementation in actual devices. They are intended for PhD students and young researchers in the field, researchers who have recently entered the interdisciplinary field of sensors and actuators, and for colleagues who want to brush up their fundamental knowledge in certain fields.
Instructors and Topics
Conference attendees can select to participate in these lectures during the registration process.