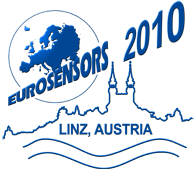 Eurosensors XXIV
September 5 - 8, 2010, Linz, Austria
Author Information
Author Deadlines
2-Page Abstract Deadline
April 9, 2010
Notification of Acceptance
May 26, 2010
4-page Full Paper Deadline
June 18, 2010
Author Information
Contributed papers should address innovative ideas and present the latest scientific and technological results covering topics concerning the fields of sensors, actuators as well as micro- and nanosystems. Authors wishing to make contributions are kindly invited to submit a 2-page abstract, including figures and references.
Upon acceptance of the abstract, authors are required to submit a 4-page paper for the conference proceedings by June 18, 2010 and present their papers at the Eurosensors conference.
ALL submissions (abstract and final paper) must be made on-line through the e-papers website. All guidelines and templates for the preparation of abstracts and final papers are available there.
Authors are required to follow the guidelines for lecture and poster presentations to comply with allotted time and space restrictions.
Conference Proceedings (CD and online)
The Proceedings of the Conference containing full papers of all accepted contributions presented at the conference are scheduled for publication online. Participants of the conference will receive a preliminary version of these proceedings on CD.
Online:
Procedia Engineering vol. 5 (2010)
Journal Special Issue
Selected papers based on the conference contributions will be published in Special Volumes of
Sensors and Actuators A: Physical
and
B: Chemical
after the standard journal reviewing process. The Guide for Authors can be found on
http://ees.elsevier.com/sna
and
http://ees.elsevier.com/snb
, the submission deadline for this will be September 30, 2010. Any late papers will be published in a regular issue with a footnote referring to the conference.